Our competitiors use three types of infrared heaters:
One type of infrared heater used in infrared saunas is a steel rod that uses material to produce infrared, but the problem is, it is a very skinny rod, and since all infrared radiates in a straight line, you are getting a very thin line of infrared rays directly onto your body. The sauna manufacturers who use this type of heater have to try to make up for that by using reflectors behind the infrared heater. These manufacturers use these reflectors to try to spread out the rays a little bit, but once the waves hit the reflectors, they simply change wavelengths and aren't as effective and mostly just heat up the air. The long wavelength that penetrates the body is lost.
The same goes for our other competitors who use the small convex ceramic heaters. These heaters are curved in a convex type shape to help spread the rays out a little bit, but they are still very small (skinny and short). These heaters are designed for commercial use, and some manufacturers decided to try to use them in infrared saunas. Because these heaters are designed for commercial use, you do not want to purchase this product. These heaters when used in any application, have to have many of them placed together in one case to make them effective. See photo below. In an infrared sauna, they only use one or two in each case.
The third type of heater, carbon sheet heaters, although very large, are very thin and not powerful enough to emit large amounts of infrared heat. These heaers that were originally designed for waterbeds or for use under laminate flooring, are now being used in many China manufactured saunas. They are inexpensive, and therefore keep the costs down for US retailers, enough for them to sell you a sauna at a lower price and they still make a good profit. Unfortunately, these people end up with an inexpensive cheap product, thats supposed to last you a lifetime.
When purchasing an infrared sauna, the heaters are very important. It is the basic functionality of the product. A nice sound system might look nice, but what good is it if it doesn't sound right?
Here are some examples of the heaters mentioned above: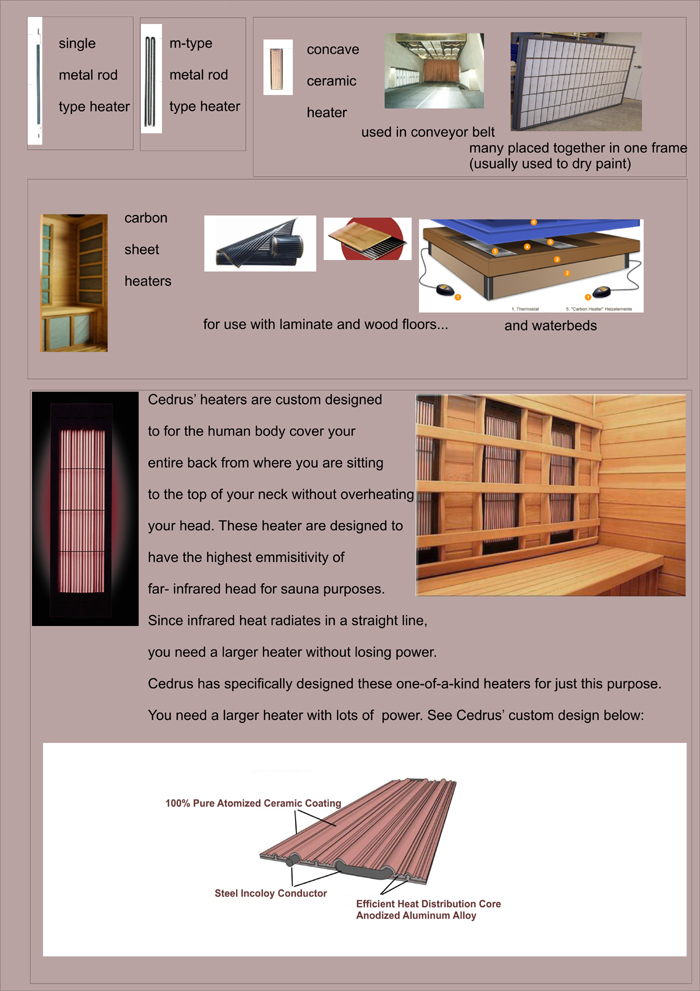 Electromagnetic Spectrum FIR or Far Infrared Waves FIR or Far Infrared Studies Dr.'s Recommend FIR
Health Benefits Developing Far Infrared for Saunas What Makes Infrared Better